Madeira is a peaceful archipelago with soaring mountains, fragrant botanical gardens, and rugged, wind-swept beaches. This island paradise is a year-round destination for nature lovers and foodies.
During peak seasons, the island is teeming with tourists. It's worth booking hotels and flights in advance. During the off-season, you can enjoy the island at a lower cost.
Riu Madeira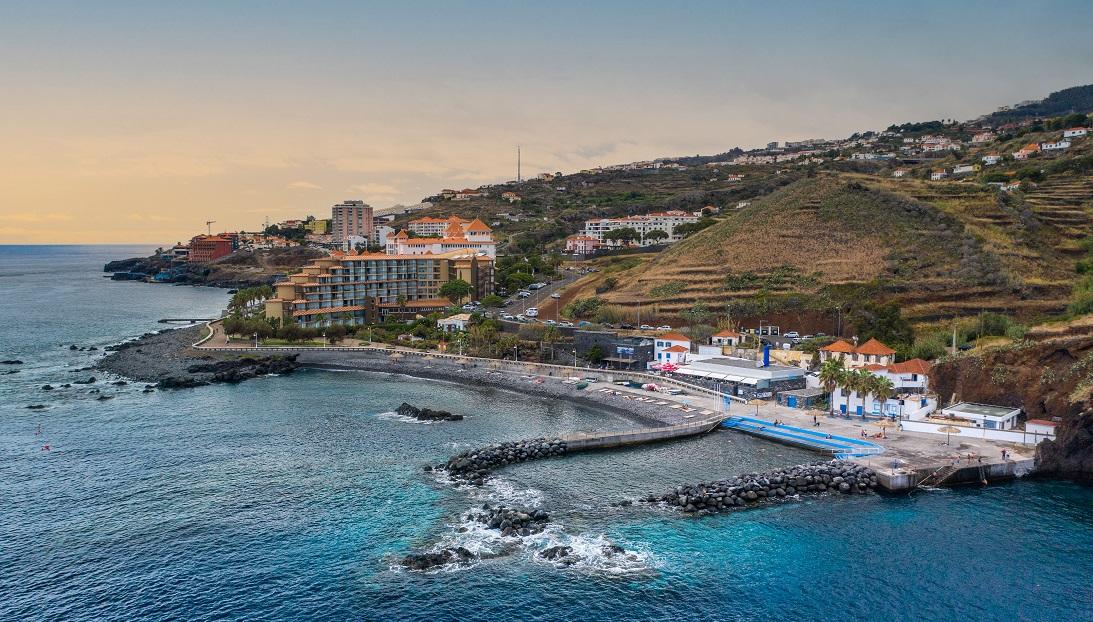 With verdant hills, stunning Atlantic views, and quaint historic towns, the charming Portuguese island of Madeira is an outdoor paradise. Its rocky peaks and seas teeming with marine life, along with its inviting year-round climate, make it ideal for high-octane activities, from hiking the legendary levadas to sailing, surfing, diving, and fishing.
The most iconic natural attraction is the Porto Moniz pools, a series of amazing swimming pools formed naturally from volcanic rocks in this peaceful village northeast of the island. The pool water is renewed constantly by the sea, making it a wonderful place to swim and relax.
There are many fun and exciting ways to explore the island, from relaxing boat cruises to thrilling 4×4 tours with expert guides. The rugged landscapes of the island offer breathtaking vistas from its highest peak, Pico de Arieiro, and the peaks of neighboring Porto Santo.
A visit to Madeira isn't complete without trying local cuisine and sipping some of the island's famous wine. Enjoy a delicious meal of freshly caught fish and bolo do caco (Madeira's flatbread) at a typical tasca, or head to a vineyard to taste the island's top-quality wines.
Madeira is also home to several popular festivals, including the annual Carnival of Madeira with flamboyant parades and a vibrant atmosphere that evokes the energy of Rio's legendary celebrations; the Festival of Flowers (June); Columbus Fest in Funchal (September); and the Madeira Wine Fair and the spectacular fireworks display at New Year's Eve in Funchal. The region's diverse scenery and countless activities make it a fantastic choice for couples, families, or solo travelers. The all-inclusive Hotel Riu Palace Madeira is a few minutes from Praia dos Reis Magos Beach and features 327 rooms with ocean views. Its facilities include a pool and a wellness center.
Savoy Palace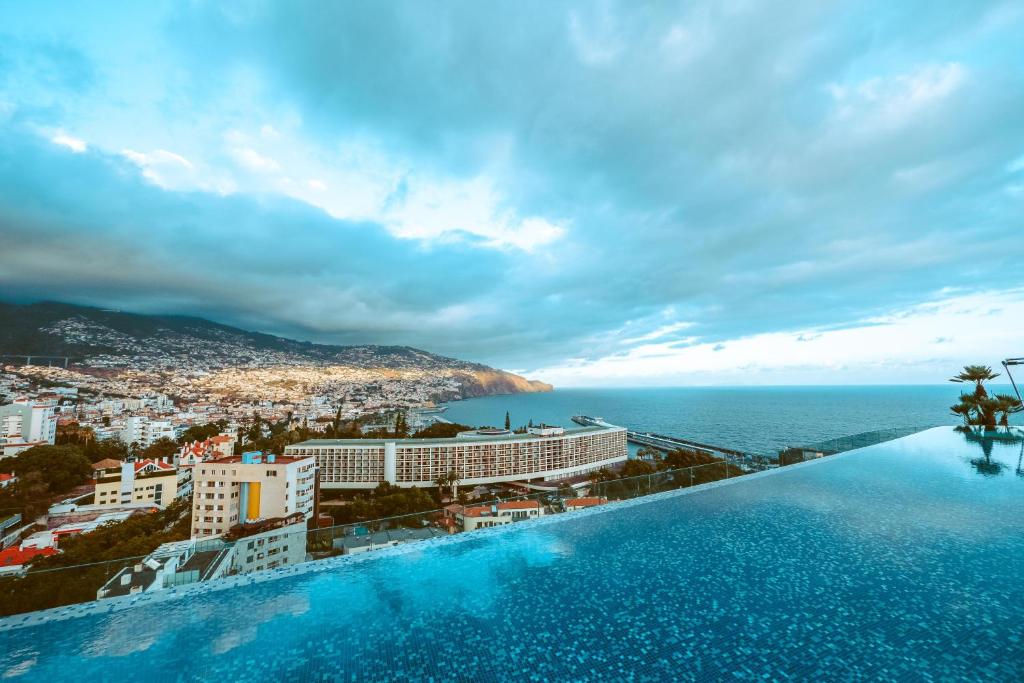 Located in Funchal, Madeira Island, Savoy Palace is a luxurious resort that overlooks the ocean and offers a world-class service. The hotel features beautiful views and gardens, an impressive spa with 3100sqm, six swimming pools (2 infinity on the rooftop), eight restaurants and bars, and conference facilities for up to 1400 guests.
The hotel's design combines a bold and modern style with historic elements to extend the legacy of the Classic Savoy. The hotel's entrance hall is a vision in salmon pink, where curtains and custom furniture evoke the era of the Belle Epoque. In the main lobby, a 13lb chandelier wrought from metal chains gleams beneath an intricate table of protea flowers and tiny sapatinhos (slipper orchids). Other touches – including an elegant gold winding staircase woven with images of leafy plants and wickerwork motifs – celebrate Madeira's rich culture and heritage.
Across the hotel, rooms showcase the island's beauty with sun-drenched hues, bespoke furnishings, and cutting-edge facilities. Rooms feature spacious terraces and balconies that offer stunning panoramic ocean views. The hotel's oversized suites boast glowing marble floors and walls, sizeable living space, a roll-top bath, and a generous patio. Those looking for more luxury can choose the adult-only infinity pool and terrace on the rooftop.
The hotel's unique architecture and design set it apart from the rest of the Madeira islands. The building's exterior is shaped like an undulating wave, with the 16 floors rising into the sky. Inside, the rooms are decorated with various historic elements celebrating the island's heritage and culture. For example, the design of the ceilings in the Vimes Entertainment Bar draws on the shapes and patterns found in traditional Madeiran embroidery. The chandeliers in the lobby are also crafted from local materials.
Enotel Lido
The luxurious Enotel Lido overlooks the Atlantic Ocean and is within easy reach of Madeira's main attractions. It offers many amenities for guests to enjoy, including an indoor and outdoor pool, spa, and sauna. The hotel provides numerous services, including a games area, shops, hairdressers, and 24-hour medical assistance.
The hotel's 317 rooms and suites are arranged around the outdoor pool and offer full or partial sea views, with all accommodations including free Wi-Fi and a balcony. There are also flat-screen TVs, whirlpool tubs, and premium entertainment systems. Suites include a separate living area and a spacious terrace. All rooms offer a private bathroom, except standard guestrooms.
Guests can enjoy various leisure activities at the hotel, including a fitness center, three swimming pools, squash courts, and a gymnasium. The hotel's onsite kids' club offers daily activities for children, while adults can relax in the modern spa and wellness center.
In addition to these facilities, the hotel also has various dining options. The main Atlantico Restaurant offers a buffet with panoramic ocean views, while the Ocean Lounge offers an elevated gastronomic experience. Guests can also dine at the hotel's other themed restaurants.
Located just a short walk from the Alex Go bus station, this luxury hotel is a great choice for those exploring the Madeira Islands. Its central location makes it convenient for discovering the enchanting landscapes, traditional festivals, and the main attractions of Funchal. Guests can enjoy the onsite nightclub and facilities, including free Wi-Fi and parking.
Pentana
Pentana is a GRC Cloud solution with multiple features, including audit planning, scoping and scheduling, time management, risk and control management, issue tracking, and action management. It is designed for organizations in the Biotech, Construction, Healthcare, Manufacturing, Mining, Offshore Oil and Gas, and Pharmaceutical industries.
The software's architecture is based on a two-dimensional universe that includes Entities and Processes. Administrators or key users map which Processes occur within which Entities so that the software knows what happens where. This also allows them to link entities with business users (auditor, compliance officer, or risk manager) and expose links to their assigned activities in the system.
The company's core products include dealer management, distribution and parts management, enterprise resource planning, electronic document management, and CRM. Its solutions are available in 116 countries, and the company has been in business for over 40 years. Pentana Solutions has a customer base of small to large-sized companies in many industries.
Carlton
Carlton is located in Monroe County in the state of New York. The town is home to many businesses and tourist attractions. It is also the location of several major highways and state parks. The Oak Orchard River and Johnson Creek run through the town. Carlton is located 5 miles from the city of Rochester. Located in the northeast part of the state, Carlton is a small town with a large population. The city is home to several unique restaurants and shops. Carlton is also home to the famous Carlton Dance, which was made famous by Olly Sholotan on The Fresh Prince of Bel-Air.
The Carlton dance is an intricate and elegant move perfect for any occasion. It is a great way to show off your skills and impress your friends and family. The dance is easy to learn and requires little equipment. It can be done in a group or alone. It is a fun activity that people of all ages and genders can enjoy.
In the 2022 reboot series, Carlton is more serious than his older counterpart and is often at odds with Will. However, in later seasons, Will significantly warms Carlton and ultimately accepts him as the brother he never had.
The name Carlton is an English variation of the name Charles. Its etymology is from the Old English elements ceorl and tun, meaning man of free birth and town or settlement of free men. It is a masculine given name with 16 variant transcriptions.