These days kids demand their personal space, and it is not that easy to set up a room for them as per their needs. Kids are very excited about the unique style of bed, and this thing can bother you as they can become stubborn with their demands. When it comes to a bed for them, it not only has to be comfortable, it should also consume less space. Now, are you in a dilemma about which kind of bed will be best for the room of your kids? Then go for bunk beds as they not only look appealing but also cover less space.
You can find several types of bunk beds in the market to choose from.
Before buying the bunk bed, keep the following points in mind:
Determine your as well as your kids' requirements.
Determine the size of the room.
Determine what your budget is.
Now let's discuss the types of bunk beds in detail to help you choose the best one:
1. Basic Bunk Bed –
A basic or standard bunk bed consists of two beds that are stacked one over the other. Most of the twin beds can be parted and used as separate beds when needed. They consume less space and make the room look beautiful.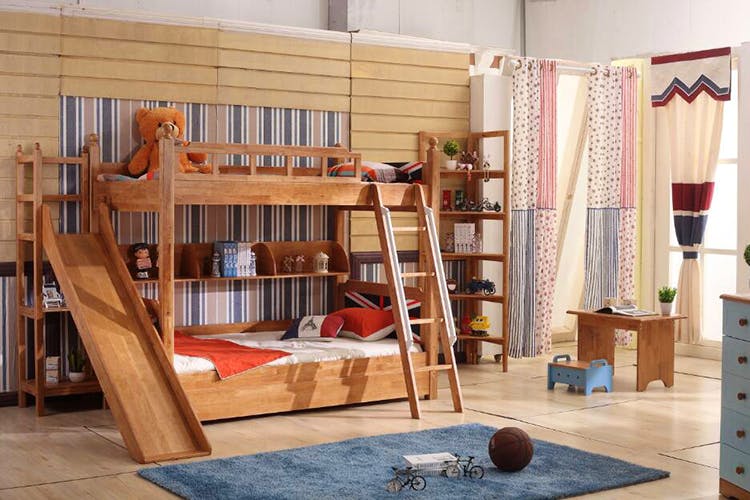 2. Futon Bunk Bed –
These beds are similar to standard bunk beds. The only difference is that futon bunk beds have a futon couch at the bottom, which can be converted into a bed. It is designed for multiple purposes as you can use it as a couch in the daytime and as a bed at night. You need not have an extra sofa in the room as a futon bunk bed will serve both purposes.
3. L-Shaped Bunk Beds –
The bottom bed is adjusted at the right angle to the top bunk forming an L-shaped bunk in this type of bed. This bed can require more space than a basic bunk bed, but it is a good option if space is not a problem for you. You can even place a chair or decor piece under the top bunk.
4. Study Lofts –
This bed is an excellent choice for older children. It can help you adjust more things in a small space. Thus you can utilize the rest of the space for other activities. Elaborated study lofts are also available to convert the room into a complete study area.
5. Triple Bunk Beds –
Think of having three separate beds when you have three kids. It will require a lot of space. At that time, a triple bunk bed can be the soundest choice. It can accommodate three kids as it contains three bunks. Also, It is a perfect type of bed for you if guests visit your home frequently for a sleepover.
These five types of bunk beds are commonly used nowadays, and you should get installed one of them if you have two to three kids at home. Moreover, these can help utilize the available space at your home in the best way possible.