Are you planning an event?
Then you might be knowing how crucial it is to make a perfect choice of venue. Be it a wedding reception, baby shower, birthday party, charity event, or business networking occasion, never make a hurry in selecting a banquet hall. Be very choosy! You surely want your event to be a huge success. Isn't it? So make sure to hire the best venue as per your requirements and budget.
Here we are with 5 rules to help you with booking a perfect banquet hall.
1. The capacity of the banquet hall –
The first thing to consider while selecting an ideal banquet hall is the capacity. Ask yourself, can it accommodate all the guests comfortably or not? Remember! The size of the venue is one of the most significant factors in deciding whether the event is a success or not. If the room is small compared to the gathering, they are going to feel suffocated and uncomfortable. Also, if the hall is too big, then visitors will feel ill at ease. It will also lead to unnecessary expenditure on a big hall which is actually not required. If somehow you cannot decide what size of the hall will be perfect for you, then the venue owner can help you a lot in this matter. So, prepare your guest list beforehand and then visit go for selecting the site.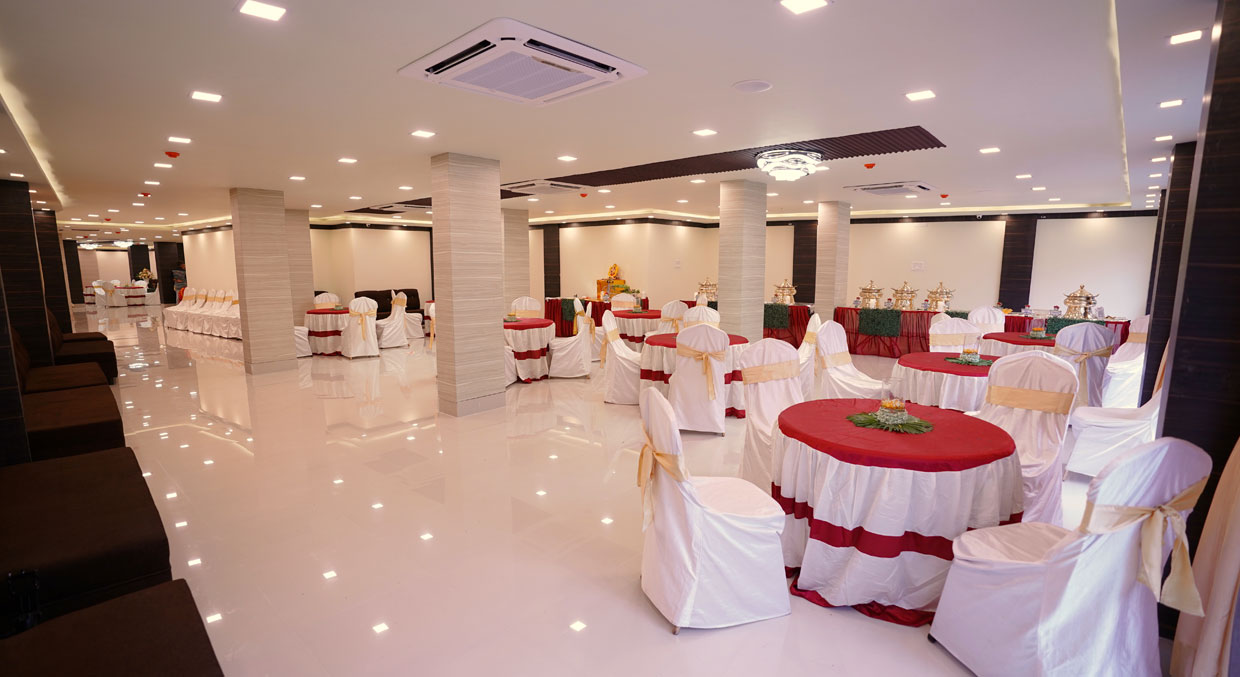 2. Location –
The second most important thing to consider is the location of the venue. Is the venue is located on the outskirts of the town, or is it centrally located? If it is located on the outskirts, will it be comfortable for your guests to reach there on time? Thinking that it is too far, will they come to attend your event? These are some important things to evaluate while selecting the location of the banquet hall.
The venue on the outskirts might be well furnished, well maintained, and available at a reasonable price, but what if your guests are not happy with the location? So prefer a site that is centrally located. Select a location that is not hard to find, and your guests can easily reach there.
3. Interior decor –
The interiors of the venue have to be clean, modern, and well maintained. Now you might be thinking of getting customized decoration? But what if the venue's interiors are already appealing and don't require much work on them. It will save you money, which otherwise you had to spend on the decor items for customization. The impressive interior will leave a good impression on your guests, especially if it is a business event.
4. Amenities –
Most of the basic amenities are provided to the client by the owner of the venue. It covers chairs and tables and basic decoration. It would help if you made sure about additional amenities such as Wi-Fi, ample parking, and audio/video equipment.
5. Costs –
Make sure that an adequate amount of facilities are available within your budget. Please don't go for a low price that your reputation in front of your guests is compromised, and also, don't go for a too costly venue that goes out of your budget. Compare offerings and costs of two to three halls and after that, select the banquet hall for your event.